GEO Nation holds bases in the Asian region such as production factories, laboratories, sales offices.
We operate a production, research and development system in four countries, Korea, China, Vietnam, and including Japan.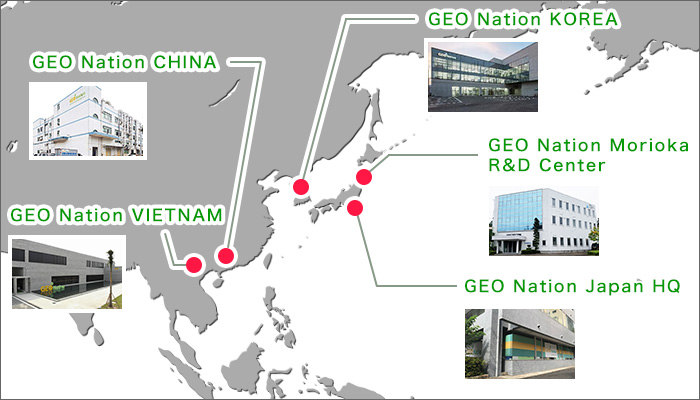 GEO Nation VIETNAM

Business

Sales

R&D

Product

PD Line

CNC Line

TRI Line

Assy Line




Anodizing Line

Insert Molding Line




Product capa
1,500K/M(Assy)

Introduce
・Land:15,000㎡
・Building:7,072㎡
・CNC LINE
・INSERT MOLDING LINE
・TRI SYSTEM LINE
・Anodizing LINE
・ASSY LINE
・Location:Lot CN07-7, Yen Phong Industrial Zone(Phase2), Yen Trung Commune, Yen Phong District, BacNinh Province, Vietnam.
GEO Nation KOREA

Business

Sales

R&D

Product

PD Line

CNC Line

TRI Line

Assy Line




Anodizing Line

Insert Molding Line




Product capa
4,000K/M(TRI)

Introduce
・Land:5,000㎡
・Building:3,960㎡
・FRP LINE (RTM)
・FRP PILOT LINE
・TRI SYSTEM LINE
・MP LINE:2LINE
・PILOT LINE:1LINE
・Location:9, Majung 4-ro, Seo-gu, Incheon, Republic of Korea
・Website:www.geo-nation.com
GEO Nation JAPAN

Business

Sales

R&D

Product

PD Line

CNC Line

TRI Line

Assy Line




Anodizing Line

Insert Molding Line




Introduce
・Date of Establishment:Nov, 2007
・Head Office:Imaizumi Bldg, 2-11-5 Hirakawa-cho, Chiyoda-ku, Tokyo, Japan
・R&D Center:20-7 Iwahara Shibutami, Tamayama-ku, Morioka-Shi, Iwate-Ken, Japan

GEO Nation CHINA

Business

Sales

R&D

Product

PD Line

CNC Line

TRI Line

Assy Line




Anodizing Line

Insert Molding Line




Product capa
6,000K/M(TRI)

Introduce
・Land:8,600㎡
・TRI SYSTEM LINE
・MP LINE:3LINE
・PILOT LINE:1LINE
・Location:2F BLDG A, ZHONGXI INDUSTRIAL PARK, GONG-HE, SHA-JING TOWN, BAO-AN DISTRICT, SHENZHEN, CHINA